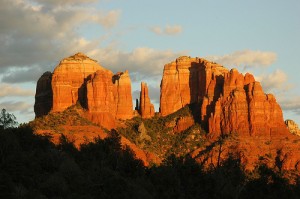 Sedona is a great place to enjoy with that special someone. It is a place for lovers and romance. It is one of the most beautiful and majestic places. The radiant red rocks greet you as you make your way through back country roads filling you with a sense of peace and tranquility. The pressures of everyday life start to dwindle away.

Travel the many roads that lead to scenic pull offs and enjoy a romantic picnic. If you continue your journey into the night, make sure to experience an unforgettable Sedona sunset. Then stay a while to enjoy a blanket of stars brighter than you can imagine.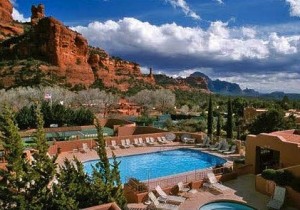 Enjoy a stay at one of the many Sedona hotels and indulge in all that the Sedona spas have to offer – from hot stone massages, seaweed wraps, mud baths,  and facials.  Sooth your muscles, invigorate your skin, relax your soul, and reconnect with your true love.  There are so many services to choose from that you could literally spend days in a spa without a care in the world.  Choosing to spend your getaway in such a relaxing and luxurious environment will leave you refreshed, renewed, and ready to greet the world again with restored energy.  It is good for your mind, body, and soul to take a trip to Sedona at least once a year to relieve stress and reconnect with yourself or loved one.


If this all sounds extremely inviting, you may be wondering how to start planning your getaway to romantic Sedona, AZ so that you, too, can enjoy the beautiful sunsets, the luxurious spas and the breathtaking landscapes.  Remember, no matter what time of year you choose for your ideal getaway in Sedona, you won't go wrong because the weather is perfect all year round.  The best idea would be to start your search for Sedona hotels online.  You can gather a lot of information on hotels and also get an idea of the things you would like to do in the area.  After you have a feel for the things that you would like to do on your vacation, you can choose a hotel within good proximity of the activities you've chosen.  Be sure to book your room as soon as you decide on a hotel.  Don't put off your romantic getaway any longer.
Credits:
sedona sunset_ dentalben_479207791_flickr.com
sedona landscape_ thales_4584473336_flickr.com