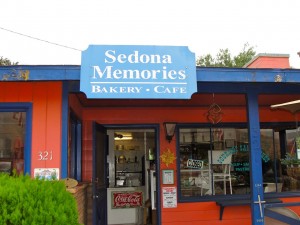 This unsuspecting bakery and cafe has become an iconic favorite of both Sedona locals and tourists alike. Hidden away on some inconspicuous side street you will find this cute sandwich shop. You may have easily dismissed it without giving it a second glance. If you go inside, you may not be any more impressed with its rustic appeal and sparse seating accommodations. However, do not judge this book by it's cover, for inside there is a culinary treasure that awaits.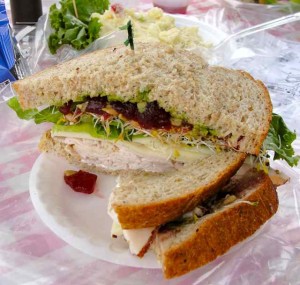 The bread is so fresh and hearty, it is often still warm when served to you. It is soft and chewy on the inside with that great bread smell and the crust is never overdone. The meats are always fresh and have great flavor as are the veggies and fillings, such as their cranberry sauce. Their mayonnaise even tastes great. The sandwiches are so BIG, you can easily get away with splitting a sandwich. However, you may decide against this, so you can sample more than one item off the menu and still have enough for leftovers. My wife and I did exactly this!
There are tables located inside and out front, that can each accommodate up to 4 people. This may not be enough on busy days, so there is a good chance you may not find a seat. However, since a large portion of business is from locals who know this, they often grab their sandwiches to go, leaving potential seating for some lucky visitors. We just happened to be so fortunate on the day we visited. We chose to sit outside to admire the beautiful red rocks all around us. Once we finished eating our sandwich, all I could think about is a that it was a good thing our Sedona hotel was within walking distance, because we were definitely in need of a nap.
Sedona Memories Bakery and Cafe (321 Jordan Road, Sedona, AZ) is located on Jordan Road off of 89A in downtown Sedona. Once on Jordan road, it is about a 2 minute walk on left hand side (west side) of the road. They are open 10-2pm Monday thru Friday (no weekends). Be sure to arrive prior to the lunch time rush, they have been known to run out of enough bread and cookies to warrant them to close early. Your best bet is to call ahead, 928-282-0032, with your order (see menu) and as a bonus you may even get a free cookie. Be sure to bring cash, they don't accept credit cards.
So, if  you are hungry for a great sandwich at a great price, then Sedona Memories Bakery and Cafe is definitely worth the trip and definitely worth trying the next time you are in Sedona.
Photos courtesy of Downtown Sedona Hotels.